Move and Groove is a fun music and movement session for pre-schoolers and their caregivers.
We get together on Tuesday mornings (school term only) at 9:30am, have a morning tea after play, and seek to have a good time together.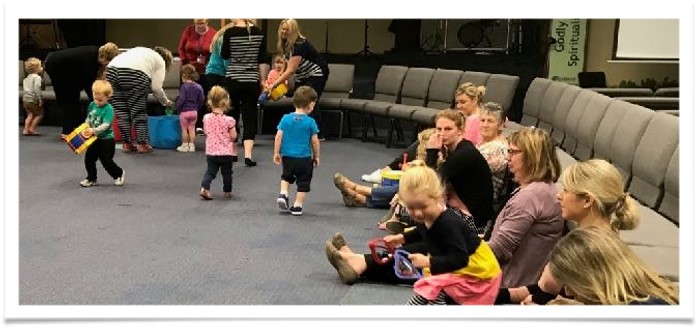 Come along, spend time with your child enjoying music and movement, and have a coffee with others in your local community.
Your kids will love it and it's great to get a chance to connect with other caregivers of similar aged children.
Cost: $3 per family
Best and friendliest

Best and friendliest Move and Groove in Christchurch. Very accommodating and the kids love it! Great social time for the kids and adults!

Queenspark Community Trust

2017-12-07T01:02:09+00:00

Best and friendliest Move and Groove in Christchurch. Very accommodating and the kids love it! Great social time for the kids and adults!

https://qct.org.nz/testimonials/256/

Lots of fun

Kids are having a lot of fun here, both really enjoy it! Wonderful place, especially love the instruments.

Queenspark Community Trust

2017-12-07T01:02:24+00:00

Kids are having a lot of fun here, both really enjoy it! Wonderful place, especially love the instruments.

https://qct.org.nz/testimonials/257/

Beautiful place

She really enjoys coming here and singing songs, especially with the instruments. Beautiful place.

Queenspark Community Trust

2017-12-07T01:03:04+00:00

She really enjoys coming here and singing songs, especially with the instruments. Beautiful place.

https://qct.org.nz/testimonials/258/

Love seeing friends

We love coming to music where the kids get to sing and dance. I also get to see friends and get out of the house.

Queenspark Community Trust

2017-12-07T01:03:22+00:00

We love coming to music where the kids get to sing and dance. I also get to see friends and get out of the house.

https://qct.org.nz/testimonials/259/

Welcoming atmosphere

We have been coming for around 7 years with various children, just love the welcoming atmosphere. Anita and the team know the children by name and also provide support in other areas well beyond the needs of a music session.

Queenspark Community Trust

2017-12-07T01:03:38+00:00

We have been coming for around 7 years with various children, just love the welcoming atmosphere. Anita and the team know the children by name and also provide support in other areas well beyond the needs of a music session.

https://qct.org.nz/testimonials/260/

Fabulous group

I have been attending Move & Groove for the past two years. The three children I bring always have so much fun! They feel confident and welcome in such a caring, positive atmosphere. Thank you for providing such a fabulous group within the community.

Queenspark Community Trust

2017-12-07T01:04:27+00:00

I have been attending Move & Groove for the past two years. The three children I bring always have so much fun! They feel confident and welcome in such a caring, positive atmosphere. Thank you for providing such a fabulous group within the community.

https://qct.org.nz/testimonials/262/

Builds confidence

Both my children have thoroughly enjoyed attending Move & Groove over the past few years. Love that they build confidence and meet other children. Anita and the team are AMAZING.

Queenspark Community Trust

2017-12-07T01:04:54+00:00

Both my children have thoroughly enjoyed attending Move & Groove over the past few years. Love that they build confidence and meet other children. Anita and the team are AMAZING.

https://qct.org.nz/testimonials/263/

Look forward to coming

Such a friendly welcome every time we attend. My daughter looks forward to coming and sings the songs at home. Great team that take the time to learn your name.

Queenspark Community Trust

2017-12-07T01:05:16+00:00

Such a friendly welcome every time we attend. My daughter looks forward to coming and sings the songs at home. Great team that take the time to learn your name.

https://qct.org.nz/testimonials/264/

Kids love it here

Great place to come. The kids love it here. The team are so nice and great with kids. Nice to have this in our community.

Queenspark Community Trust

2017-12-07T01:05:36+00:00

Great place to come. The kids love it here. The team are so nice and great with kids. Nice to have this in our community.

https://qct.org.nz/testimonials/265/

Kind and welcoming

We have been attending Move & Groove now for over a year. The people who run the group are so kind and welcoming and do a wonderful job. My daughter loves coming every Tuesday to meet up with her friends and dance and sing.

Queenspark Community Trust

2017-12-07T01:06:07+00:00

We have been attending Move & Groove now for over a year. The people who run the group are so kind and welcoming and do a wonderful job. My daughter loves coming every Tuesday to meet up with her friends and dance and sing.

https://qct.org.nz/testimonials/266/

Great place to meet others

Great place to meet other mums and grans. Great for children to mix with others.

Queenspark Community Trust

2017-12-07T01:06:38+00:00

Great place to meet other mums and grans. Great for children to mix with others.

https://qct.org.nz/testimonials/267/

Positive and welcoming environment

We love coming to music every week. It is such a positive environment and the children love the variety, instruments, ribbons, bubbles, lycra, parachute etc. It helps them grow in confidence and gives us songs to sing at home during the week. The morning tea is also a favourite time for my boys. Playing with all the different toys (and eating yummy biscuits). All the staff and volunteers are so kind and welcoming! Great systems in place too (celebrating 10 stickers etc.).

Queenspark Community Trust

2017-12-07T01:07:34+00:00

We love coming to music every week. It is such a positive environment and the children love the variety, instruments, ribbons, bubbles, lycra, parachute etc. It helps them grow in confidence and gives us songs to sing at home during the week. The morning tea is also a favourite time for my boys. Playing with all the different toys (and eating yummy biscuits). All the staff and volunteers are so kind and welcoming! Great systems in place too (celebrating 10 stickers etc.).

https://qct.org.nz/testimonials/268/

Love coming here

Thank you for making this music group happen. We love to come here. Desmond wants to come here every week, especially come to see Anita. Great music, great people, also the environments I can't say more how great you guys are! Thank you, xx

Queenspark Community Trust

2017-12-07T01:08:05+00:00

Thank you for making this music group happen. We love to come here. Desmond wants to come here every week, especially come to see Anita. Great music, great people, also the environments I can't say more how great you guys are! Thank you, xx

https://qct.org.nz/testimonials/269/

Love sharing music, dance and movement with little ones

Thank you so much for putting this on for us. The kids talk about "mus-get" all week. Highlights definitely include the morning tea and play, and also the sticker charts and birthday box. Personally I really love having music/dance/movement and instruments regularly in their lives and being able to share it with other little ones. Anita is such a lovely leader to have on the microphone!

Queenspark Community Trust

2017-12-07T01:09:07+00:00

Thank you so much for putting this on for us. The kids talk about "mus-get" all week. Highlights definitely include the morning tea and play, and also the sticker charts and birthday box. Personally I really love having music/dance/movement and instruments regularly in their lives and being able to share it with other little ones. Anita is such a lovely leader to have on the microphone!

https://qct.org.nz/testimonials/270/

Friendly faces, wonderful community

We love coming to Move & Groove for the friendly faces and wonderful community feel. Oh and the music too of course! Great to see the kids all moving and singing together. Thanks so much for putting this on!!

Queenspark Community Trust

2017-12-07T01:09:38+00:00

We love coming to Move & Groove for the friendly faces and wonderful community feel. Oh and the music too of course! Great to see the kids all moving and singing together. Thanks so much for putting this on!!

https://qct.org.nz/testimonials/271/

Such an enjoyable morning

I have been bringing my kids to move and groove for nearly 6 and a half years - It's such a fun and enjoyable morning - parent 2017

Queenspark Community Trust

2018-01-18T01:53:14+00:00

I have been bringing my kids to move and groove for nearly 6 and a half years - It's such a fun and enjoyable morning - parent 2017

https://qct.org.nz/testimonials/such-an-enjoyable-morning/

So much fun

My grandson is just loving this wonderful place with so much fun- Grandparent 2017

Queenspark Community Trust

2018-01-18T01:54:22+00:00

My grandson is just loving this wonderful place with so much fun- Grandparent 2017

https://qct.org.nz/testimonials/so-much-fun/

Such a friendly welcome

Such a friendly welcome everytime we attend. My daughter looks forward to coming and sings the songs at home. Great team that take the time to learn your name. - A parent

Queenspark Community Trust

2018-01-18T01:55:44+00:00

Such a friendly welcome everytime we attend. My daughter looks forward to coming and sings the songs at home. Great team that take the time to learn your name. - A parent

https://qct.org.nz/testimonials/such-a-friendly-welcome/

Love the Atmosphere

We have been coming for around 7 years with various children - just love the welcoming atmosphere. Anita and the team know the children by name ! They have supported us in other areas.

Queenspark Community Trust

2018-09-26T22:15:05+00:00

We have been coming for around 7 years with various children - just love the welcoming atmosphere. Anita and the team know the children by name ! They have supported us in other areas.

https://qct.org.nz/testimonials/love-the-atmosphere/

Caring, positive environment

I have been attending Move & Groove for the past two years. The three children I bring always have so much fun! They feel confident and welcome in such a caring, positive atmosphere. Thank you for providing such a fabulous group within the community.

Queenspark Community Trust

2018-09-27T22:36:51+00:00

I have been attending Move & Groove for the past two years. The three children I bring always have so much fun! They feel confident and welcome in such a caring, positive atmosphere. Thank you for providing such a fabulous group within the community.

https://qct.org.nz/testimonials/caring-positive-environment/

Great place to come

Great place to come. The kids love it here. The team are so nice and great with kids. Nice to have this in our community.

Queenspark Community Trust

2018-09-27T22:39:16+00:00

Great place to come. The kids love it here. The team are so nice and great with kids. Nice to have this in our community.

https://qct.org.nz/testimonials/great-place-to-come/

Kind and welcoming

We have been attending Move & Groove now for over a year. The people who run the group are so kind and welcoming and do a wonderful job. My daughter loves coming every Tuesday to met up with her friends and dance and sing.

Queenspark Community Trust

2018-09-27T22:40:26+00:00

We have been attending Move & Groove now for over a year. The people who run the group are so kind and welcoming and do a wonderful job. My daughter loves coming every Tuesday to met up with her friends and dance and sing.

https://qct.org.nz/testimonials/kind-and-welcoming/

Great place

Great place to meet other mums and grans. Great for children to mix with others.

Queenspark Community Trust

2018-09-27T22:40:57+00:00

Great place to meet other mums and grans. Great for children to mix with others.

https://qct.org.nz/testimonials/great-place/

Really enjoy the music

My two boys really enjoy both the music and the morning tea and it is a great way to get them out of the house

Queenspark Community Trust

2018-09-27T22:41:56+00:00

My two boys really enjoy both the music and the morning tea and it is a great way to get them out of the house

https://qct.org.nz/testimonials/really-enjoy-the-music/

Entertains the children

We have been coming here for five years. I love that the music entertains my children but also gives them a extra opportunity to mingle and learn more social skills.

Queenspark Community Trust

2018-09-27T22:42:56+00:00

We have been coming here for five years. I love that the music entertains my children but also gives them a extra opportunity to mingle and learn more social skills.

https://qct.org.nz/testimonials/entertains-the-children/

Best and friendliest

Best and friendliest Move & Groove in Christchurch. Very accommodating and the kids love it! Great social time for the kids and adults.

Queenspark Community Trust

2018-09-27T22:43:40+00:00

Best and friendliest Move & Groove in Christchurch. Very accommodating and the kids love it! Great social time for the kids and adults.

https://qct.org.nz/testimonials/best-and-friendliest/

Wonderful place

Kids are having a lot of fun here, both really enjoy it! Wonderful place, especially love the instruments.

Queenspark Community Trust

2018-09-27T22:44:18+00:00

Kids are having a lot of fun here, both really enjoy it! Wonderful place, especially love the instruments.

https://qct.org.nz/testimonials/wonderful-place/

Fun and enjoyable

I have been bringing my kids to Move & Groove for nearly 6 ½ years. It is such a fun and enjoyable morning.

Queenspark Community Trust

2017-12-07T00:51:36+00:00

I have been bringing my kids to Move & Groove for nearly 6 ½ years. It is such a fun and enjoyable morning.

https://qct.org.nz/testimonials/250/

Enjoy coming here

She really enjoys coming here and singing songs, especially wiht the instruments. Beautiful place.

Queenspark Community Trust

2018-09-27T22:44:50+00:00

She really enjoys coming here and singing songs, especially wiht the instruments. Beautiful place.

https://qct.org.nz/testimonials/enjoy-coming-here/

Love coming

We love coming to music where the kids get to sing an dance. I also get to see friends and get out of the house.

Queenspark Community Trust

2018-09-27T22:47:19+00:00

We love coming to music where the kids get to sing an dance. I also get to see friends and get out of the house.

https://qct.org.nz/testimonials/love-coming/

Positive environment

We love coming to music every week. It is such a positive environment and the children love the variety, instruments, bubbles, lycra parachute etc. It helps them grow in confidence and gives us songs to sing at home during the week. The morning tea is also a favourite time for my boys. Playing with all the different toys (and eating yummy biscuits). And the staff and volunteers are so kind and welcoming! Great systems in place too (celebrating 10 stickers etc).

Queenspark Community Trust

2018-09-27T22:49:39+00:00

We love coming to music every week. It is such a positive environment and the children love the variety, instruments, bubbles, lycra parachute etc. It helps them grow in confidence and gives us songs to sing at home during the week. The morning tea is also a favourite time for my boys. Playing with all the different toys (and eating yummy biscuits). And the staff and volunteers are so kind and welcoming! Great systems in place too (celebrating 10 stickers etc).

https://qct.org.nz/testimonials/positive-environment/

Wonderful place

My grandson is just loving this wonderful place with so much fun. Thank you.

Queenspark Community Trust

2017-12-07T01:00:15+00:00

My grandson is just loving this wonderful place with so much fun. Thank you.

https://qct.org.nz/testimonials/253/

Great way to get out the house

My two boys really enjoy both the music and the morning tea and it is a great way to get them out of the house.

Queenspark Community Trust

2017-12-07T01:00:41+00:00

My two boys really enjoy both the music and the morning tea and it is a great way to get them out of the house.

https://qct.org.nz/testimonials/254/

Entertains and learns social skills

We have been coming here for five years. I love that the music entertains my children, but also gives them an extra opportunity to mingle and learn more social skills.

Queenspark Community Trust

2017-12-07T01:01:43+00:00

We have been coming here for five years. I love that the music entertains my children, but also gives them an extra opportunity to mingle and learn more social skills.

https://qct.org.nz/testimonials/255/

3

Queenspark Community Trust

– A parent/Caregiver